"The paradox is the more info you give away, the more people will buy what you have to give."
Digressing first to the world of sports: "the sweet spot is the location at which the object being struck, usually a ball, absorbs the maximum amount of the available kinetic energy and rebounds away from the racket with a greater velocity than if struck at any other point on the racket.
"The sweet spot is a place where a combination of factors results in a maximum response for a given amount of effort. " –Wikipedia
Translating this into content marketing–the "sweet spot" is where the best things happen with your targeted content (the racket's sweet spot) as customers and prospects (the ball) actively engage with you, absorb your content(kinetic energy) and rebound away (share your content) with a greater velocity than if struck at any other point on the racket (unfocused content).
Finding your sweet spot/s will actually simplify content creation—anything that does not complement the sweet spot is not content you want to spend time producing. You want to only create content that will generate maximum response for your efforts, just as tennis pro Rafael Nadal expects every time he swings a racket.
"If you're committed to content marketing it's incredibly important to think about your sweet spot and keep your content inside it." –Doug Kessler, Velocity Partners
What is the Sweet Spot?
In his book, Epic Content Marketing, Joe Pulizzi says: "Your sweet spot is the intersection between your customers' pain points and where you have the most authority with your stories. This takes us back to one of the original questions: where can you be the leading expert in the world?"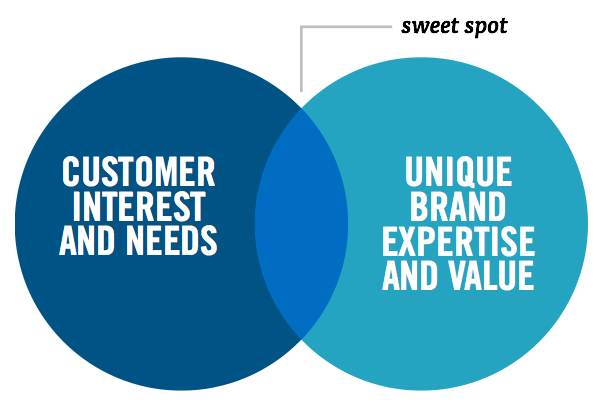 This involves clearly knowing your mission as a company, knowing your products or services and intimately knowing your audiences. There's no way to find your sweet spot without this exercise. It is crucial to any effective content marketing strategy and especially important when creating targeted, "sweet spot" content that will resonate with your customers.
For example, Linked Media Group works primarily with startups or early stage companies (a relatively narrow niche market) as the "sweet spot" for their marketing services. They identified and defined their areas of expertise, and created a strategy around their content identity as "an ideas-driven digital agency that delivers creative, strategic and technical solutions for small businesses."
Wal-Mart, on the other hand, segments their customers into three main groups and will therefore have three targeted sweet spots in their content: Value-price shoppers who like and need low prices due to economic issues; brand-passionate shoppers with low incomes but who still want brand name goods; price-sensitive upscale or wealthier shoppers who love a good deal. Content targeted to each group will have a different bent to it, aligning with each customer group's unique need.
Finding That Sweet Spot (or Spots)
Discover the topics around which your customers' interests and your expertise intersect (the sweet spot). This area will define your content's tone and message when talking directly with customers in your target markets.
Which aspects of your product/s have the most customer appeal?
Do you have more than one target market?
What problems do you solve for them?
What value do you bring to their lives?
What makes you unique in the marketplace?
Identify customers who actively promote your products and services.
Let them tell you why they like you; what values do you share?
Knowing where and how your customers consume your content allows you to create content that will connect with the broadest segment of your audience.
Content needs to be sharable and accessible to have maximum impact.
Are they reading online, viewing video, or using mobile connections?
Create content that is compatible with audience consumption.
Continually post fresh content to keep customers engaged and talking with you.
Your Sweet Spot and Beyond
Once you've defined your sweet spot, write it down. Make it part of your content strategy; include the description in your editorial calendar. Keep everyone producing content focused for consistent messaging and brand authenticity throughout your networks. Keep your content within the realm of your expertise to ensure credibility.
However, as your company grows or your content marketing/social media measurements and metrics signal that change is due, don't stray far from your identified sweet spot/s without establishing an organic relationship that points back to that sweet spot. Create logical connections between where you are and where you want to go, building authority along the way, nurturing your position as a respected thought leader and expert.
It is imperative that you monitor and measure the success of your content marketing, including staying in tune with your target audiences. If they zigzag, you zigzag. Where they go online, you go online.
Staying up-close-and-personal will keep you "sweet-spot- on" with content that:
Addresses your buyers' interests
Endorses your brand's expertise
Answers the priorities of your audiences
Promotes your brand's value propositions
Connects with users where they live, and joins the social conversation
Becomes highly sharable, turning customers into brand advocates